Capacity: 40,343
Record PL attendance: 42,332 v Newcastle United (4 December 2004)
Built: 1877
Pitch size: 103m x 67.5m
Stadium address: Stamford Bridge, Fulham Road, London, SW6 1HS
Phone: 0371 811 1955
Having officially opened in 1887, Stamford Bridge is the oldest stadium in the Premier League and it has undergone a huge transformation since its humble beginnings as the home of London Athletic Club in the 19th Century.
The venue was originally offered to Fulham FC but after they turned it down, Chelsea moved into the stadium a few months after forming in March 1905.
Stamford Bridge has four, state-of-the-art, all-seater sections that are close to the pitch and can create an electric atmosphere.
Stamford Bridge Stadium Map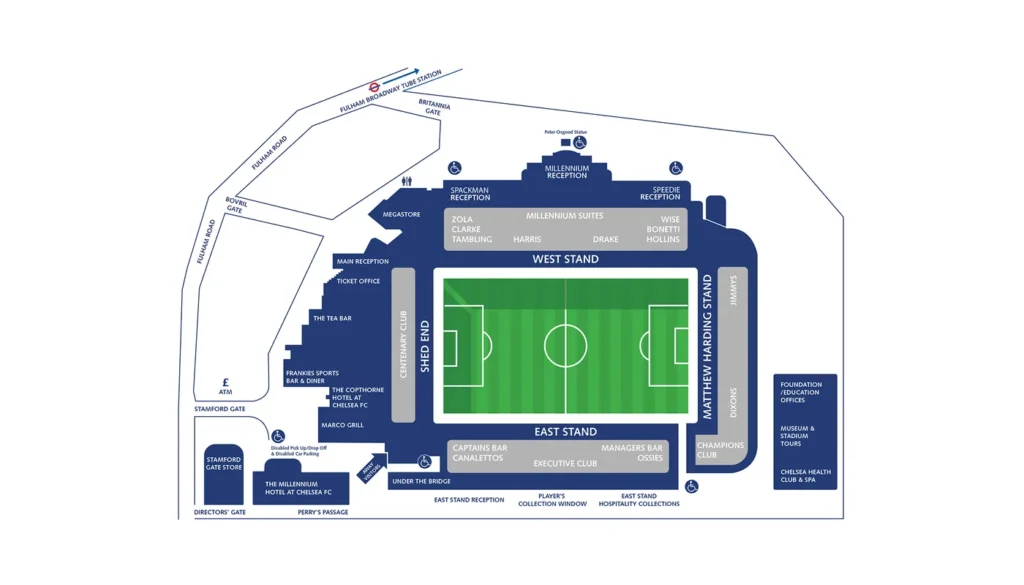 AccessAble
Chelsea Football Club have worked in partnership with AccessAble, to produce detailed pan-disability guides for Stamford Bridge.
The accessibility information in this guide aims to assist fans with disabilities and provide an additional resource to help home and away supporters plan their visit.
You can view the guide via accessable.co.uk/organisations/chelsea-football-club
Arriving at Stamford Bridge from City Centre
Stamford Bridge is located in West London, and the easiest way to reach the ground from Central London is by tube or rail. See the public transport section for more details.
Arriving at Stamford Bridge by Public Transport
London Underground/Overground
The nearest London Underground/Overground station is:
Fulham Broadway – Zone 2, District Line. If changing at Earls Court Station take a Wimbledon-bound tube. The ground is a 10-minute walk from the station.
National Rail
West Brompton [WBP]
The station is located at Old Brompton Road, London SW5 9JX; 20 mins' walk from the ground.
It is served by :
District Line on Underground and the West London Line on Overground.
Directions to ground: from the station walk past Brompton Cemetery, until the ground is on your right.
Imperial Wharf [EUS]
The station is located at Townmead Road, London SW6; 15 mins' walk from the ground.
It is served by:
West London Line on Overground and Southern Rail services, which go to to Milton Keynes and Croydon.
Directions to ground: come out of station with Chelsea Harbour on your right; follow until you can turn left onto Lots Road; turn left again onto King's Road, right onto Holmead Road, and left onto Fulham Road. The ground will be in front of you.
Bus
There are two bus stops outside Stamford Bridge on the Fulham Road. You can get to the stadium using bus routes 14, 211 and 414.
Arriving at Stamford Bridge by Car
Stamford Bridge is on Google Maps: click here
The M25 circles London and the stadium, and will connect to many of the following roads based on location:
From North: M1, A3220, A41; passing Edgware and Watford
From South: A3, M3; passing Richmond and Wimbledon
From East: A12, A13, A4; passing through Central London
From West: M4, A4, A40; passing Brentford, Slough and Windsor
From City Centre
Stamford Bridge is located southwest of Central London, outside of the Congestion Charge zone. Depending on where you're coming from, you may approach the stadium from the M4, which then becomes the A4 running through Hammersmith.
Stadium Area
Stamford Bridge lies just north of the River Thames and Battersea Bridge, and just south of Hyde Park. The A4 passes near to the stadium, providing links to Central London to the east, and the M4 and M25 to the West.
Parking
Stamford Bridge is located in a busy residential area; parking is limited and often reserved. Paid parking facilities are located roughly 15 minutes from the stadium and can be used on a first-come, first-served basis.
Please note full road closures are in place outside the stadium 90 minutes before kick-off and 60 minutes after full-time.
Source: PremierLeague.com
Last Updated: 29/10/2023